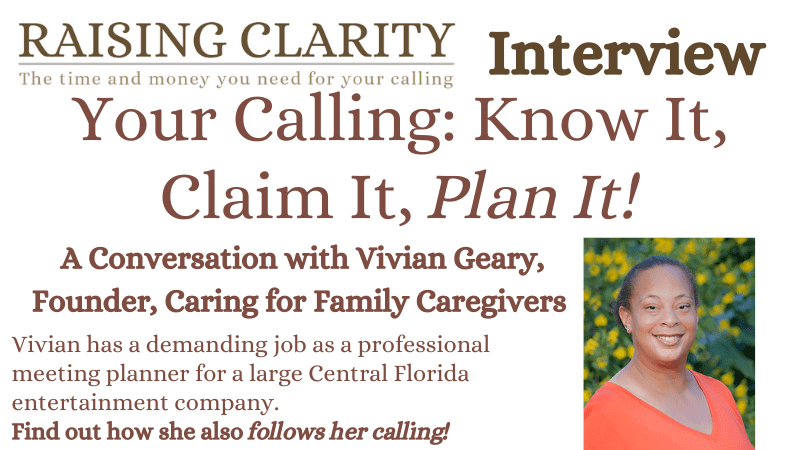 22 Jul

Think About Your Calling All the Time But Work a Job? Now Watch This!
Think About Your Calling All the Time But Work a Job?
Do you think about your calling all the time–but work a job? Watch this video for powerful inspiration and best tips on organizing yourself to follow your own calling–even if you work a full-time job.
Vivian Geary is a pretty amazing person. But then, so are you! Your calling is important. But you may not understand how on Earth you can follow it if you are living a demanding life already.
How does Vivian work at the top of her field for one of Florida's major entertainment centers and follow her calling as the founder of Caring for Family Caregivers?
Watch or listen to my interview with Vivian, and you'll see how to put her wisdom to work for you.
Below is my discussion of the key guidance I see in this video that benefits all of us with demanding lives + a calling as beautiful and distinctive as we each are–just like Vivian.
Discussion of the Video
What's a Calling?
Very early in the video, Vivian offers a great definition of what a calling is–something I've refused to do! She points to three things:
It's deep-seated and passionate.
While you're following it, you lose track of time; you're in flow.
It gives you energy, rather than draining you.
I'll continue to refuse to define calling because sometimes I think we use definitions to disqualify ourselves needlessly. But I love Vivian's definition!
Essential to Do
In the next segment of the video, Vivian articulates a few essential things that help make it possible for her to follow her calling while being one of Central Florida's master professional event planners:
set aside time for it
and be faithful to it during those times
set aside space
and use that space for meetings as well as helping you set your mindset, entering that space means she is in her calling space
being consistent in using the time set aside for calling
being faithful
staying connected with her community within that set-aside time–and not feeling guilty about having good boundaries!
Two Vital Qualities
Vivian stresses two qualities that go far beyond the list above:
These are true wisdom about the spirit in which to follow your calling. Vivian articulates these in a way we deeply feel.
She inspires me to ask: how am I bringing these two qualities to my calling? My calling is being voice and support for calling in this world. So I ask: how do you bring these two qualities to your calling? Presence: without it, nothing else matters. You could even say nothing else actually happens to or for you without your presence! And empathy: even if your calling is completely solitary, you need empathy with yourself. Vivian's calling involves lots of other people at different levels: relationship is what she stresses here, made possible by empathy. Does this apply to you, too?
Money!
You know I am fascinated by money, and take money as teacher in my own life and work. So of course, I had to ask Vivian if she charges for her calling. She does! But she didn't start out that way. How she made the transition is in fascinating, in the next segment of the video.
A Calling is Always Changing, and Changing Us
The last bit of the video is where Vivian gives some of the deepest blessing and inspiration for genuinely following our calling, which means being willing to change–it and ourselves! She claims the right and possibility of continuous refinement of her calling led by her calling itself.
How to Know It's Your Calling?
Vivian's final guidance to us is a powerful moment. It begins:
If the idea never leaves you, if it's almost like nagging, like if it's always part of your thoughts–backing out of  your driveway in your car, or walking through the grocery store, or in between commercials on TV, if it pops into your head–these are all signposts that say, yes, it's something you should pursue, and rest in comfort of that. Don't be uncomfortable and kind of running from it….
Your Next Step
Well, ok, you've watched, you've understood you may be on to something here. What's your next step? One simple thing you can do is browse what we offer here, or simply watch a few more videos or read a few more posts.
Let it ferment. Let it "nag you," as Vivian says! That, too, is fruitful–if at some point, as she also says, it moves you to take the next step.
I hope you've loved learning from Vivian as much as I have!