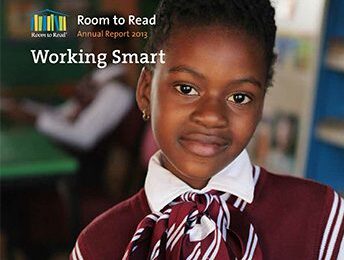 10 Nov

Reporting Success: Five Best Practices
Reporting Success: Five Best Practices
A soul-colleague once gave me a copy of a nonprofit's annual report–and it inspired this entire post. The way they reported what they do for their donors and to inspire others to give was just so good. The nonprofit is Room to Read. The particular annual report I read isn't available online any longer, but in reporting success, five best practices still hold.
How do I like it? Let me count the ways…
Clarity: Beautiful, simple yet truly informational graphics are the hallmark of this report and Room to Read's brand. The whole point of the organization is increasing literacy: we become increasingly literate in how Room to Read assesses progress and in assessing it ourselves as we browse. Too, the report's title is "Working Smart." And every page shows a different level of how the organization does this. So we feel we are getting smarter as we read. (Almost too much so! At first glance, the exquisite precision might make you think you're getting the whole picture instead of just illustrative detail. But the detail (to me) helps me envision the whole picture. And it's a big picture…)
Expansiveness: These folks are helping the whole world, community by community, it seems! Leaf through the pages. They are "on the ground" in numerous different local communities in ten different nations of Africa and Asia, and the report gives us both detail and a real sense of the fullness of their work, its depth and richness.
Honesty: They are not afraid to say where they've failed–and tried again, with more success. I can't overstate the confidence honesty gives donors.
Measurability: Much is made of how important measureable outcomes or "benchmarks" are to donors. So often, social-change artists see no way to compare, contrast, evaluate, numerify (my word) our progress. But we must look harder! There IS a way, always to convey what we have changed incrementally if we will attempt to become translators. Our donors' dollars are precious investments in our work and we owe some explanation of what we have seen happen with those investments–donors can't see it unless we state it, translate it for them.
What's NOT in the Report: Hunger Porn! Pictures of people in dire situations without the least shred of dignity. Again, I cannot overstate the importance of this to donors. Everyone knows your work is needed or you wouldn't be there! Nobody needs a display of other people's suffering to inspire them to give generously.  It's not our job to terrorize donors into giving. It's our job to inspire them so they stay donors for the long haul, not for one terrifying appeal! In your pitch, focus on all the good you are doing (see #4, above) without omitting necessary descriptions of suffering you feel you are alleviating. See how Room to Read gives necessary context on situations of deprivation and suffering that exist in-country, without harming respectful relationships they have clearly carefully cultivated with children, their parents, their local leaders/decisionmakers, national decisionmakers, their Board members and donors who work in-country, and their Board members and donors elsewhere. The test here is how you would feel if it was your suffering on parade, or your children's. How would you write about it and display it? That's the guideline for all our fundraising: respect, compassion, wisdom, delight!
Questions? Or responses? Bring 'em on!